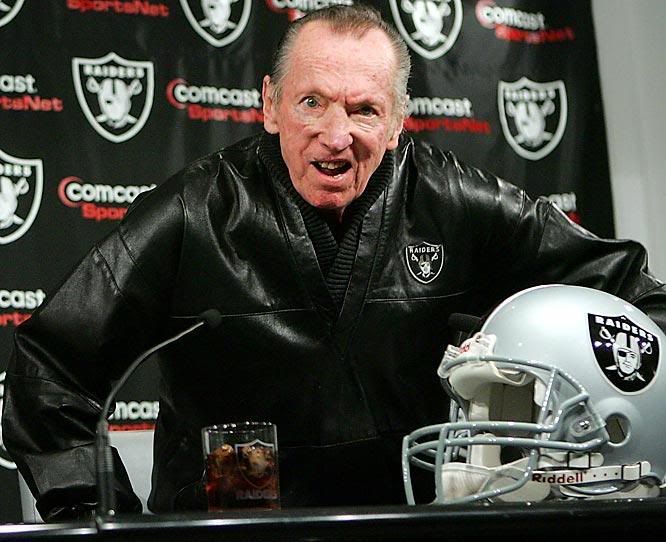 Al Davis fired Head Coach Lane Kiffin yesterday in a move that was long overdue. Not because of Kiffin's performance mind you, but because of the persistent rumors that have been circulating around since the off-season. Apparently, in the off-season, Davis had contacted Kiffin and asked him to resign, which would've ended his short tenure as coach of the most defunct NFL Franchise over the past five years, and saved Davis from having to pay out the final years of his salary at $2M per.
What surprised me most was how Davis conducted the firing. Typically, we learn about these things on sites like espn.com or nfl.com and never hear about the "behind the doors stuff." Not Al though… he called his own press conference to hang the dirty laundry out for everyone to see. In that conference, he pulled out an alleged letter that he sent to Kiffin prior to the game vs. Kansas City, and proceeded to go over every instance during the last year and a half for why he felt justified in making this decision.
According to Davis, Kiffin wasn't happy with the team's personnel moves, namely this season's free agent class. I found it hilarious how Al continued to refer to his FA signings and off-season acquisitions as being "great" players. Some of the more ridiculous salaries will be listed in this section.
WR Javon Walker – $55M; CB DeAngelo Hall – $70M; S Gibril Wilson – $36M; DT Tommy Kelly – $50M; T Kwame Harris; WR Drew Carter; DT William Joseph.
Am I misreading something here? If I am, please let me know. Javon Walker is a shell of what he was '03, '04 and '06. His perpetual off the field issues since New Year's 2007 have drastically affected his mindset and he's no longer even a #1 receiver, yet somehow he conned Davis into giving him an $11M signing bonus. DeAngelo hall, the former malcontent in Atlanta, is the most over-hyped, overrated CB in the past 10 years. This guy bought into the mini-Deion comparisons but sadly his on the field play has never lived up to that lofty comparison. Gibril Wilson is a nice player, but not $36M nice. The Giants have more than filled his void with a rookie out of Miami (Kenny Phillips) and an 11-year vet, Sammy Knight, who rarely gets on the field. Kwame Harris? Next. That guy is horrible as is William Joseph, a former University of Miami 1st round bust from the '03 class, who couldn't even sniff the field his last few seasons while playing for the Giants. Tommy Kelly: $50M. Really? I know that the current increase in salary cap has allowed teams to spend more to get higher tier free agents, but he has done nothing in his tenure to deserve a payday like that.
Davis also said Kiffin wasn't happy with some of the team's draft choices, primarily, 2007 top pick overall, JaMarcus Russell. He referred to Russell as a "great" player. Let's not get too ahead of ourselves on this one… Yes, he has all the talent in the world, but that doesn't always translate into becoming a great player (see Vince Young). Secondly, I don't blame Kiffin on this one. WR Calvin Johnson (2nd pick) was considered the best player in the NFL draft, and in a win-now league, coaches aren't always afforded the time it takes to develop a young QB. Oakland already had on its roster a few young guys at the QB position, Andrew Walter comes to mind, a former 3rd round pick, who might've taken another step forward with a better cast around him.
Lastly, Davis said that Kiffin had done everything possible to undermine the organization and players in the media and was trying to get himself fired. Regarding the latter, I'd have to side with Kiffin when he says he wasn't. Had he a) created problems with the players and b) tried to get himself fired, I don't think the games this season, aside from the opener vs. Denver, would've been as close, and their last two losses have come against very good teams. The real reason they lost was because they're still young and learning how to win; not because the players quit on the coach. To see what that looks like, see Scott Linehan.
After amassing a 19-61 record over the past five seasons, Davis stood tall in front of those cameras and stated with unshakable confidence that the Raiders would be back. I think the only way this happens is if he makes one crucial move: steps away. Of course hubris will not allow him to do this, and we all know it, but for the 1st time in a while there's some real promise on this roster (not this year's free agent signings). Too bad by the time they develop, they'll want to leave for a winner, and since I don't see Davis stepping away from day to day operations until the day he dies, the losing ways aren't changing anytime soon. Even the Boss knew when it was time to step away from the Yanks… C'mon Al, do the right thing and follow his lead.